Buy SSL Certificate
The standard for website security.
EXCLUSIVE OFFER
-
Get up to 30% off on
SSL certificates
Secure your Website
Crazy Domains SSL Certificates provide the highest levels of industry standard security to conduct safe, secure eCommerce transactions, protect passwords, credit card numbers and most importantly, to secure your customer's information.
Secure your Business
The SSL Certificate will secure your website and your customer's browser so all information they enter on any secured page is protected.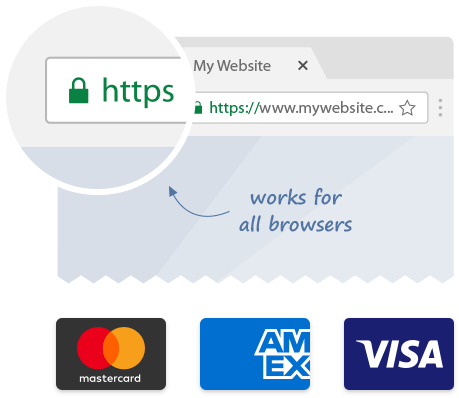 WORLD'S STRONGEST ENCRYPTION
256 Bit Encryption

World Leading SSL

Trusted by all Browsers

Trusted by Google

Strongest Encryption
Choose your SSL type
Standard
Ideal for blogs, social media
& personal websites
Buy Now
Premium
The most secure SSL for
business websites
Buy Now
Wildcard
For business websites
with multiple sub domains
Buy Now
Features with all SSL Certificates
Setup on any domain

Trusted by all browsers

Validation Confirmation

24/7 Tech Support

30 Day Money Back

Unlimited Free Reissues
Increase traffic with SSL
Google has now introduced HTTPS as a ranking factor in the search engines and favours websites with SSL encryption. Give your website a nice boost within Google ranking by connecting any SSL's to your domain name.
Strong encryption
Crazy Domains SSL Certificates converts your data into virtually impenetrable code using data encryption up to 256 bits.
Our certificates also use the most secure encryption available and support both SHA-1 and SHA-2 algorithms. The security of your site is our number one priority.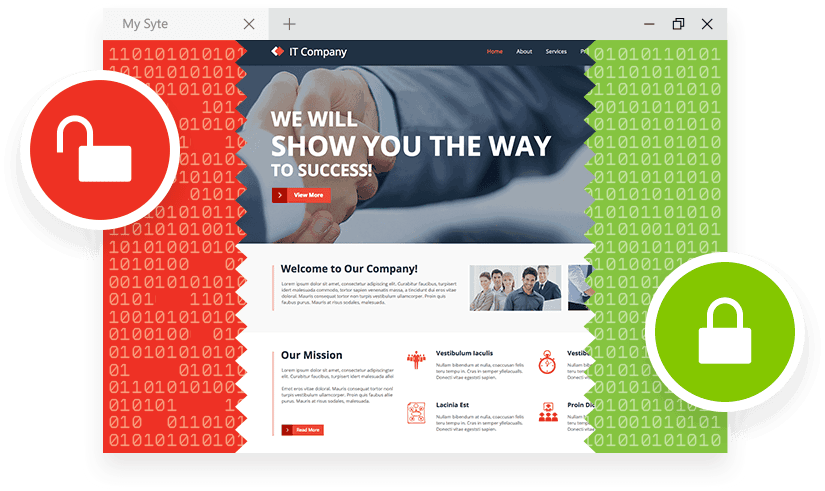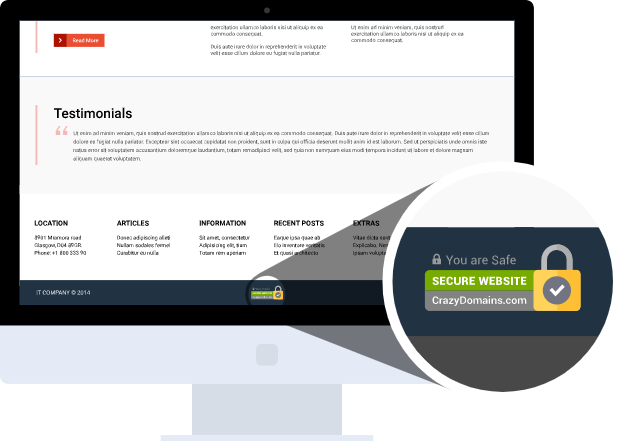 Fully verified SSL
All Premium SSL Certificates come with a click-to-verify site seal. Displaying the seal on your site shows your customers your site is fully secured and you mean business, building a trust connection.
How do SSL Certificates work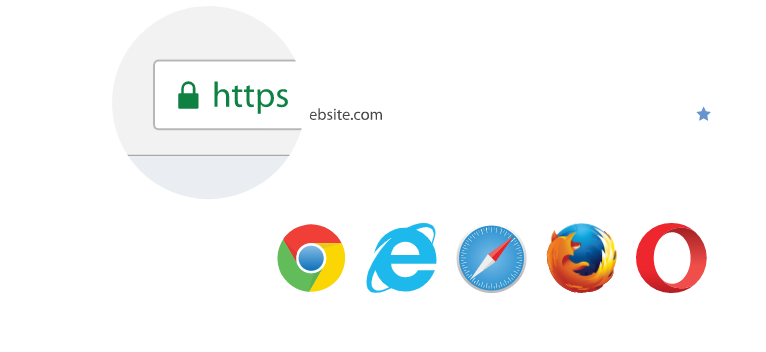 SSL (Secure Sockets Layer) is the standard security technology used to establish a secure encrypted connection between a browser (user's computer) and a server (your website).
The SSL connection is encrypted and will secure sensitive data, such as credit card information, logins, passwords, forms and all over data exchanged during each user visit (session).
Anyone can identify if a website is secure, view the browser address bar, if you see HTTP this means the website does not have a certificate installed, if you see HTTPS (S' stands for 'secure') this mean the website is secure and contains a SSL certificate.
After you purchase your SSL Certificate, we will connect it to your domain name to ensure your hosting is secure. If your domain is registered with another provider we will provide you the certificate so you can install manually.
What our Customers are Saying
SSL Certificates
Protect your website and build trust with Crazy Domains' SSL certificates. Encrypt data, ensure secure connections, and boost your website's credibility.
Rated
4.7
/5 based on
3
customer reviews
I am the owner of Kiwiearthmother, which comprises a blog and The Kombucha Shop. I purchased SSL to provide customers with a secure portal for processing transactions. Crazy Domains set up SSL really quickly so I was up and running in no time.

The Crazy Domains SSL Certificate was easy to setup and effective. It's as simple as that. With all the things going on in a business, the last thing I want to think about day to day is whether my site is secure. I can now get on with what I do best - serving my customers.

I have used Crazy Domains since 2009 and have never been disappointed with the service. The only company I use and will continue to use well into the future.
Your Questions, Our Answers
What is an SSL Certificate?
When you're setting up a website, an SSL certificate is one of the most important things you need to have. But what is an SSL certificate?
The term sounds so overwhelmingly technical that it can often turn people off and discourage them from taking a moment to understand what it really means. There is nothing to be intimidated about, however, because the general concept of this term is actually quite simple. And once you know what an SSL certificate is, you'll know just how useful it is to a website.
Let's start by understanding what SSL stands for. It is an acronym for "Secure Sockets Layer", a kind of encryption technology that secures the communication between a website's server and an online user's web browser. This way, you will be able to protect confidential data on your site from eavesdropping, forgery, and tampering.
To take advantage of SSL technology, you will need to get a certificate that identifies you as a real business with a site that consumers can trust. You will need to install this certificate on your server. Sites that use cheap SSL certificates are distinguished by the presence of a padlock icon or sign on the web browser or a secure website seal on any part of the webpage. They are also indicated by a green address bar and the protocol prefix "https" in the site's URL.
What can an SSL Certificate do for your small business?
Makes your website more secure
Using the SSL encryption is one of the best ways to safeguard your website and everything that is in it. This technology enables you to keep confidential information safe, which is essential if you have a business or eCommerce site, storing customer data. This also gives you the ability to secure the private details your customers share with you on your site, such as usernames, passwords, email addresses, contact details, and credit card information. With this added defense, you won't have to worry about your information or your customers' details falling into the wrong hands.
Qualifies you for accepting payments
Obtaining an SSL certificate in Australia is also a necessary step if you run an eCommerce or shopping website and are planning to accept credit card payments. It is a requirement of the Payment Card Industry Data Security Standard or PCI DSS. This is a policy that governs organisations handling prominent credit cards such as Visa, American Express, HSBC, and MasterCard.
The PCI DSS checks both pricey and cheap SSL certificates in Australia and abroad to find out if they are from a trusted provider. It will also see if they are using the proper encryption strength–at least 128 bits–that will be able to secure the details of credit card users, and verify if a private connection is established on the webpage where clients will be entering their personal information.
Helps ensure authentication
More often than not, when you buy an SSL certificate in Australia, you are also provided with another type of protection in the form of a server certificate. This functions as a mediator between your customers' browsers and the SSL servers, ensuring that the company that issued your certificate is a credible institution.
Your website visitors can check these documents to get the assurance that your cheap security certificate is updated and that the webpage they are visiting is truly yours. This way, people will feel safer about conducting transactions with you.
Improve your credibility
When you obtain a cheap SSL website security certificate, you're showing your target consumers that you are a legitimate business that's worthy of their time, attention, and trust. You're also proving to them that you care about them and about safeguarding their information, so much so that you are willing to invest in extra online protection. The more people trust you, the more business you will get from them. Plus, consumers tend to recommend and be loyal to brands that safeguard their interests.
Improve ranking in search engine results
In terms of actual financial gains, what does SSL mean for small businesses? The simple answer is: increased web traffic and sales. It's not just consumers and internet users who value a website that invests this kind of additional site protection. Search engines such as Google, Bing, and Yahoo also look at this particular element when they are ranking sites. If you're using a cheap SSL certificate, you have a higher chance of appearing at the top of search engine results for your category or industry. This can help drive more traffic to your site, which in turn gives you the opportunity to boost your online conversions.
What are the advantages of a Wildcard SSL?
Protects multiple sub-domains
Wildcard SSL certificates are a popular type of SSL protection that provide protection for one main domain and an unlimited number of sub-domains. For instance, if you have the website www.mybusiness.com and you want to create the following sub-domains for it:
payments.mybusiness.com
newsletter.mybusiness.com
blog.mybusiness.com
The wildcard SSL certificate will secure the data of your main website, mybusiness.com, as well as the other three sub-domains. Normally, you would need to buy a single SSL certification for each sub-domain and install them individually. This would take a considerable amount of time, which is not ideal for growing businesses. With a wildcard certificate, you just have to buy and install one SSL certification.
Cost-effective
SSL certificate costs can get overwhelming for small businesses, especially if you're planning to set up a website with several sub-domains. You'd have to pay for the certificate of each sub-domain. But thanks to cheap wildcard SSL packages, you won't have to worry about the extra cost. This way, you can reduce your expenses without exposing your site and data to hackers and other malicious online users.
More manageable
Aside from offering a cheap SSL security solution, wildcard certificates also provide a more convenient way for businesses to manage a crucial aspect of their websites. You won't have to deal with the hassle of deploying ten or twenty different individual SSL certifications just for a single website URL. You also won't have to worry about renewing all those certifications individually when they expire.